Forthcoming - with Rachel Gay at W139 Amsterdam.
Unspoken We opens 11/05/2018

Collaborative sound script with artist Alfonso Borragan for his live action work Daguerrolito, Kontejner, Zagreb.
(play)ground-less at Photo50 London Art Fair, 2018 with VR piece Hollow Tongues #2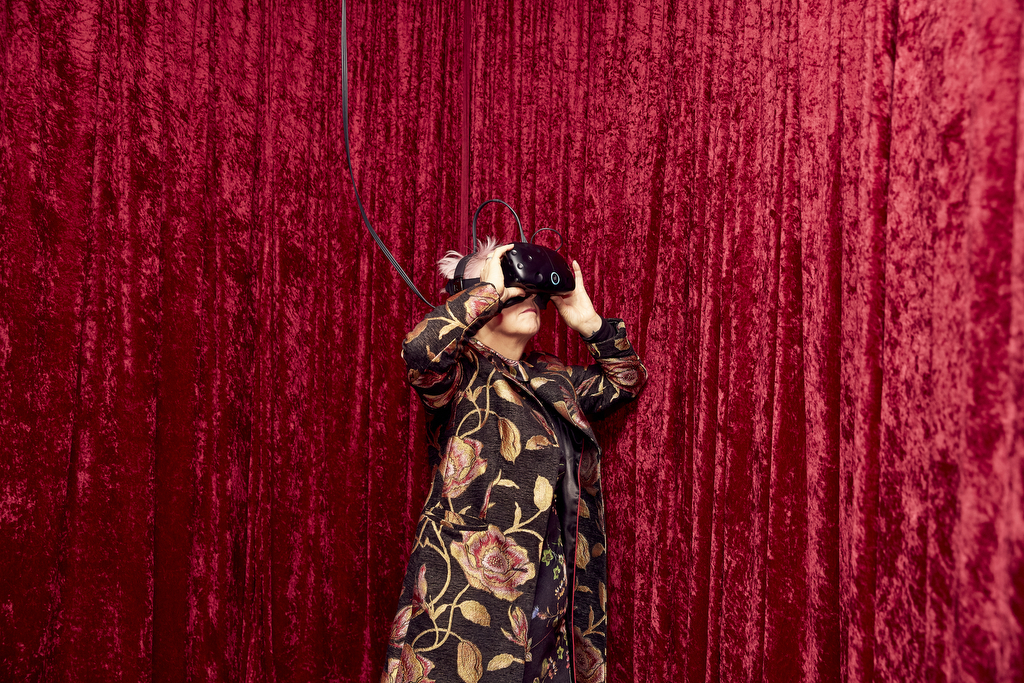 Interview for podcast with Matthew de Kersaint Giraudeau, Bad Vibes Club, 2017
https://badvibesclub.co.uk/upcoming-archive/
Dither: a dinner by Sarah Bayliss and alfonso borragán.
May 25th 2017, Hatch Cafe

a live and participatory presentation
expanding The Dithering out of the gallery
and into your body
over and over
with a focus on the physical
the communal
the mouth
a dinner that performs another layer of fiction and interpolation
(play)ground-less, live VR performance 18/05/17 Gasworks, London
VR still
(play)ground-less: hollow tongues | Gasworks | 11/05-18/05/17
Coming soon: The Dithering at Space In Between. April 26th.
Coming soon: (play)ground-less at Gasworks. May 11-17th.
Coming soon: I Sit And Look Out. Barrio Abajo Gallery, Baranquilla. March 24th 2016
Colombia research trip funded by AIDF | February-April 2016
THIS IS TOMORROW
review of (play)ground-less at Space In Between Gallery | London | 12/2015
Collaboration and Authorship symposium with (play)ground-less and Hemera Collective | 16/2016.
With Jane Frances Dunlop and Miro Loew. Panel by Larne Abse Gogarty, Helen Kaplinsky and Patricia Kingori. Performances by David Blandy & Larry Achiampong, and Das Hund.
(play)ground-less will be joining up with Hemera Collective and guest panel on 16/01/16.
In conjunction with 'Secret Agent' opening 09/01/16 at Guest Project Space: an afternoon symposium on collaboration, creativity and authorship - also, last chance to see (play)ground-less at nearby Space In Between Gallery.
(play)ground-less
Sarah Bayliss, María Angélica Madero, Ninna Bohn Pedersen & Belén Zahera
04/12/15 – 16/01/16
Publication Launch and Live Event: 10/12/15, 7-9pm
(play)ground-less
Sarah Bayliss, María Angélica Madero, Ninna Bohn Pedersen & Belén Zahera
04/12/15 – 16/01/16
Preview: 03/12/15, 6-9pm

Space In Between is delighted to present a group exhibition of new work by four international artists: Sarah Bayliss, María Angélica Madero, Ninna Bohn Pedersen and Belén Zahera. (play)ground-less takes as its starting point a manifesto which outlines a series of theoretical and practical signposts or parameters, creating a structure within which the group of artists have begun to explore a collaborative practice. Working from different countries, and following the idea of 'play', an ongoing series of tactics are generated to continually negotiate the terms of the project; tactics applied as interventions to trigger modes of doing, thinking, relating and acting upon, without ever solving a problem or achieving a goal. Instead, the project allows new methodologies and languages to take hold within the production of art works.

In an attempt to reverse the logic of a group show - where works are chosen or produced in order to respond to a previously set idea or topic - (play)ground-less is conceived as an arena to create the material conditions for the exchange and production of knowledge. With a focus on the tension between practice and theory, this exhibition will bring together individual contributions that function as footnotes for a larger collective state of mind.

(play)ground-less includes new sculptural, video and text-based works, appropriated within the larger framework and moderated within the collective. The research will be comprised into a publication that sheds light on the processes, exchanges and conversations that give form to the project and the works in the exhibition
The things we make, make us
Sarah Bayliss, Robert Cervera & Simon Linington
Info:
Space In Between presents a group show at Eton Drawing Schools as part of their on-going invited programme of exhibitions, presenting new and recent work by three London-based artists: Sarah Bayliss, Robert Cervera and Simon Linington.

All three artists – working across sculpture, performance and video – investigate, in various ways, the fluidity of matter. From paint marks sanded off studio walls used to create a new material for the making of art objects, to examining the screen as a plane of water, and exploring the sculptural quality of a slice in the skin of a human hand, each artists' work relates to our experience of what it is to be human, and to what it is to be a maker of things.
Nothing More Than Image
By Sarah Bayliss
01/08/15, 4pm
Join us at 4pm on Saturday 1st August for Nothing More Than Image by Sarah Bayliss: An encounter between screen, media and live/ pre-recorded feeds, which mainline the viewer in to the image-video-device that refers to itself to itself to itself, in pursuit of breaking point.
This event is in response to The Eternal Frame, (1975) by Ant Farm and T.R. Uthco and part of What it is, is figuring out what it is.
An accompanying publication including works by David Raymond Conroy, Emily LaBarge, Hannah Barton, Jessie McLaughlin, Sarah Bayliss and Tim Steer is available from the SIB website and the gallery for £10.
What it is, is figuring out what it is, runs until 01/08/15
Open Fridays & Saturdays 12-6pm
The Eternal Frame will be screened every 30 minutes during these hours.
Curator/Artist
Through The Gap Increasing, Baltic 39 Figure 2, Newcastle Upon Tyne
August 20 -25 | 2014
Sarah Bayliss, Amelia Bywater, Rachel Gay, Maria Angelica Madero,
Ninna Bohn Pedersen, Nicola Singh, Rebecca Wilcox
Intermitting Glare
Space In Between Gallery, London
July 11 - August 02 | 2014